Social Buttons
Trip Report, MAN-DOH-KRT with QR
05-17-2011, 07:37 AM
AirbusA340
Your Average SchoolGiraffe


Posts: 139
Joined: May 2011
Reputation: 4
Trip Report, MAN-DOH-KRT with QR
*Please Note, This Blog Was Not Written By Me, But A Friend, mc-airlines.
Hello all!
I'm going to try my best to re-live my memories of a trip with Qatar Airways a few year's back. So, here goes!
Background
Well, usually we visit Sudan, Africa to visit family which live their, since most of my family are from Sudan. We have tried a variety of airline's, such as Egypt Air, Gulf Air and even the country's wretched flag carrier - Sudan Airways, which I had a less than pleasent journey with. However we have been going with Qatar Airways for quite a few times, and have been very pleased with their (may I add 5 star) service, so after finding some cheap deals on the web, we got our bag's ready for another flight with 5-star-airline, Qatar Airways.
The Day
Alarm clock goes off at 3am. Great, 1 hour's sleep and I'm off on a flight. Everyone is still asleep except for my dad, so we drag our heavy bodies to wake everyone else up. My dad however, thought it was 4am, and was running around like a mad man getting everyone up and rushing them along. After a 30min rush of getting ready, having breakfast etc. my dad finally realises I was abit more organised and woke us up at 3am, so we aren't in fact late. I could read his face - 'Phew!' So we got our bag's ready and everything prepared, still half-asleep. Passport - check. Everyone awake - check. Bag's ready - check. On time - check. Hang on, what about the tickets? Oh great. Well done for forgetting where you put them dad. After 10 mins of frantic searching, we found the tickets in the corner of a cupboard. Tut tut tut....
Just in time, the doorbell ring's. Taxi's here! Since my dad was coming on a later date, and since my mum can't drive, we had to book an airport taxi to take us on the journey from our seaside town in North East England to Manchester Airport (MAN) - around 2-3 hours by car. Since we set off late at night/early morning, we were treated to wonderfully calm roads and a blissful sunrise. It was a peaceful journey, well, peaceful when the bl**dy loud indicator didn't sound.
Eventually, we pull over at Manchester Airport, Terminal 2. By now, the sun has already risen. Our boarding time was 7AM, and we still had plenty of time to kill at the airport.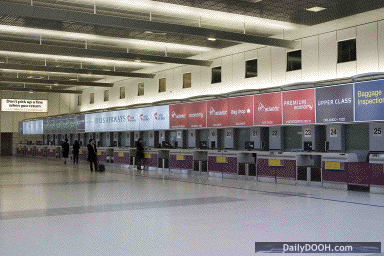 Check-In Area
So we pulled out our bag's and waved goodbye to the driver. A great thing about Manchester Aiport is that it's pretty clean and simple, and isn't a huge bustling area like Heathrow. We checked-in our luggage and headed for the secuirity area. As we turned the corner, our mouths dropped to the floor. Zig-zagged lines of people, stretching from side to side. That's an hour wait at least.
Or not? My brother, who was then in a pushchair, saved our lives. Weelchairs and pushcair's got to cut the que, and so we walked straight past the huge line, dreary-eyed people staring hatefully at us. The sweet joys of childhood

'I wonder if they'll find the batteries in my bag' - I thought to myself as I passed through security. Luckily it was eventless, and we passed through without much hassle. Luck's with us today

Well, they did force my mum to drink my baby brother's baby milk, as it was a 'possible explosive hazard'. Yeah, right....
Well, we killed the rest of our time strolling through the largely over-priced duty free area. Typical. Manchester's duty free isn't the biggest in the world, but it wasn't too bad.
One of the various stores..
Eventually, our flight began boarding, so we headed to the gate. I looked out of the window's, and there she was, a Qatar Airways A330-300, painted in the airline's new colours:
Looking fine as always...
MAN-DOH
Flight No.: QR42
Aircraft: A330-300 (A7-AED)
Economy class (Y)
7 hours.
We stepped into the familiar cabin. This was our 3rd (or 4th?) trip onboard this very aircraft. It was a clean cabin, and the seat's looked great in their deep-maroon colour with a grey plastic back.
Nice cabin!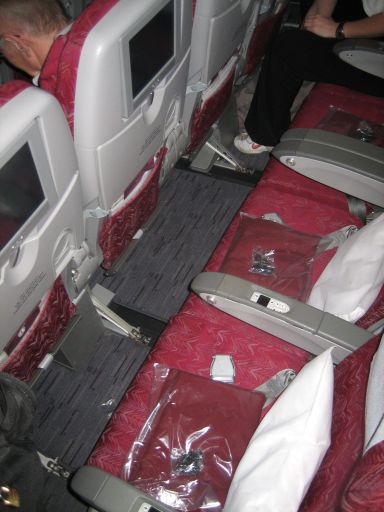 Decent legroom, except window seats had an annoying under-seat IFE box in the way
After a while of sitting on the ground, our aircraft eventually began to push back. The FA's were smartly dressed, attentive and always friendly throughout. They came around offering sweets, I naturally took a big handful and stashed them away in a small compartment in the armrest for later into the flight.
View for the flight
And eventually, we were cleared for takeoff, and began to rumble down the runway. It wasn't to long before we were airborn and we punched through the clouds.
Shortly after take-off, the FA's came around once again, this time offering hot towels, a nice refreshment, however at first they were hotter than I thought! Menu cards were also handed out, describing reasonably basic meals in an appetising way. Well, I was onboard an aircraft in Y class so I wasn't expecting 5 star cuisine. However, when the FA's came out with the meal cart, they left out the tempting adjectives and simply asked 'Beef or Chicken?' - in their (rather sexy

) Asian voices. Slightly awkward for vegitarian's, but hey, the're getting their job done.
An example of the meal card's distributed on their flights.
Unfortunately, due to a memory leak and the fact that this was 3 years ago, I do not remember exactly what I had, however it was similar to this:
Whatever it was, it tasted pretty nice, and the quantity was very good. Another great thing about the cabin crew is that they frequently came around offering drink's so you never ran thirsty, and if you did, pushing the call button would create an FA magically in front of you in second's. Or you could go up to the galley and ask for one, I saw that they were very friendly and chatty. Full point's for the cabin crew today!
After enjoying my meal, I decided to spend the rest of the flight indulging in Qatar's extensive IFE system. While it might not be as big as some other's our there, such as Emirates' ICE, it was still pretty good, up there amongst one of the best definately. I didn't have much trouble finding a movie, and I eventually settled in to watch 'Blades of Glory'. A pretty decent film IMO

Many hours later...
The sun is starting to set, and by now, most of the people onboard are either asleep or watching a good movie. I belong to one of those type who rarely sleep on aircraft, so instead I stayed awake to flick through the rest of IFE. Smaller meal's, including a variety of sandwhiches and a muffin, which was a nice snack meal to accompany a few episodes of The Simpsons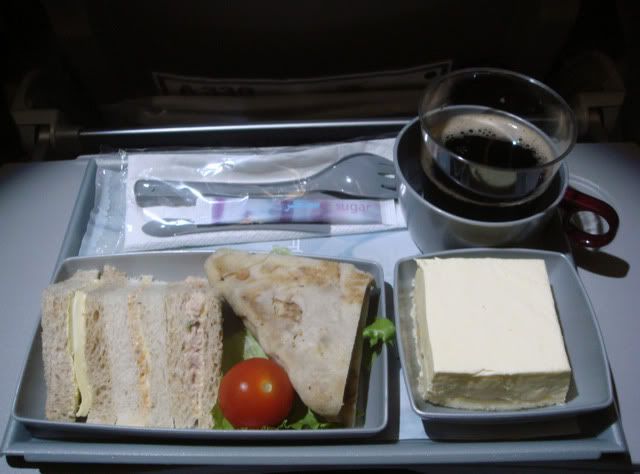 Take your pick...
The plane also had a variety of mood lighting settings, not as good as the 777's mood lighting, however it still looked pretty good. They include: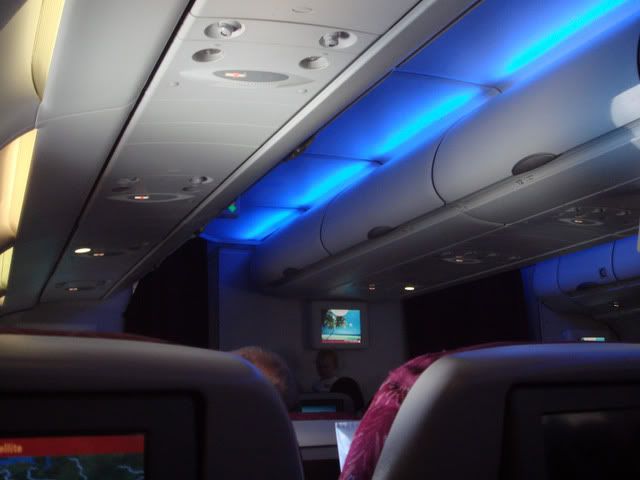 Blue (light)...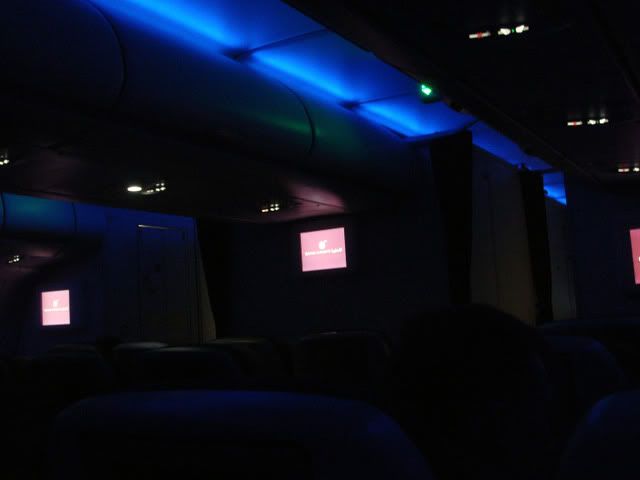 Blue (dark)...
There were a few other's. Note that these aren't the multi-coloured change every 30 seconds type, however I still think they created a nice cabin and a great soothing way to get to sleep...
We started the descent into Doha and slowly, one by one, the passenger's woke up. Most of them with a sort of 'Huh? Where am I? Oh, yeah..' kinda way.
Doha coming into view..
(Note that it was almost night when we arrived)
The captain made a good landing and we taxi'd back to the airport. Luckily, we parked on the right side of the runway. That's one of the annoying things of Doha Airport. If you're unlucky enought to park at the other side of the runway, you'll have a super-long bus ride back to the airport since you need to drive all the way accross the perimeter...
I stepped out of the cool, air-conditioned aircraft into the hot, humid Doha climate. Woah! A short walk into the open door's of (air conditioned) Doha Airport, aah, that's more like it. We had a pretty long stop-over at Doha (7 hours!) and I must admit, it's not the best place to be for a long stopover. It's a pretty small airport, reasonably modern, quite clean. Not much to look at.
Doha's Duty Free area
We headed straight for the 'Quiet Rooms' in a bid to get any seat's before they were full. The Quiet Room's were two room's with no light's, no announcement's, just reasonably comfortable reclined seat's. After trying a variety of position's, I just couldn't get to sleep, so I decided to roam around the pretty small duty free. I was here for 7 hours so I wasn't in any rush!
7 long hours eventually passed. Thank god I brought a long a few long books to pass the time. Well, we got everything ready and headed for the Gates.
After getting tickets etc. sorted out, we boarded the bus and set off for the aircraft. After a while of wondering around, I looked out into the dark night to spot our aircraft. Unsuprisingly, Doha Airport was completely full with Qatar Airways aircraft, occasionaly the odd Emirates or Gulf Air plane. Row after row of Qatar, Qatar, Qatar. Finally, we stopped at (what looked like) our aircraft to take us from Doha to Khartoum, Sudan (KRT). Yes! I was in luck. We had an A330-200 to take us their, instead of the usual A300/A320, the first of which is now discontinued. While the cabin wasn't as good as the -300, it still had pretty comfortable seet's and IFE, a welcome addition for this 3/4 hour flight.
Should be able to catch another movie or two!
DOH-KRT
Flight No.: QR520
Aircraft: A330-200 (A7-???)
Economy class (Y)
3 hours 40 min.
This flight turned out to be pretty uneventful. Meal's served, watching IFE and then we're already on approach. I noticed that the cabin crew for this flight weren't as kind as that on MAN-DOH - maybe that's just because I didn't see them as much.
Well, before long, the sun was out and we were on approach to Khartoum Airport. Aircraft load was very light, except one kid was at the back and screaming his eyes out for the whole approach. Always one, eh?
Another very good landing and we were down at Khartoum Airport! Another air-condition bus, straight into the air-conditioned airport. Phew. Right, Khartoum Airport, can I just say, is not going to win the Airport of the Year award anytime soon. In fact, it's abit of an eyesore. Duty free comes in the form of an overpriced shop, toilet's are a stinkhole you don't want to go near, staff are pretty unfriendly, and there are wild cat's strolling in and out of the automatic doors. Nice.
After clearing passports etc. we go straight to the arrival hall. There isn't really anything else to see, except for the poorly-stocked store I mentioned. One thing I was pretty unhappy about was the fact that I forgot a toy I bought at Doha on the plane, and I had to leave it behind. Darn! (note I was a kid back then and I have since grown out of cheap plastic toys...)
We are grinning ear to ear when we meet our long time no see relatives, however one thing I wasn't grinning about was exiting the airport. You quite literally go from a 20 degrees C A/C airport, straight into a 45 degrees C outside climate with the sun in your eyes. A wall of intense heat ecompassed my body, it was so hot my eyes started to water!
Bear in mind Khartoum is considered the hottest major city in the world...
Khartoum Airport
After a great time with family in Sudan, it was eventually time to say goodbye. A few tears (my mum, every time...) and hugs, we are waiting for the flight back to Doha. Luckily, the departure hall was newly built, brining it into the standards of a NORMAL airport. LCD screens are a technological advance for these guys

The flight back to Doha was again uneventful. Unfortunately back then I wasn't so sharp on my spotting skills, and my memory has deserted me, so all I can say was that it was either an A300 or an A320, however I'm pretty sure it was an A300. Well, no modern cabins or IFE to talk about, however there was a few audio channels built into the seat which I listened into a long with the in flight magazine.
Back to Doha once again, same stopover, so nothing new.
And the flight back wasn't much to report about either! However one thing that I was treated to I will never forget.
Since it's about 4 am, almost everyone around me asleep. Oh how much they missed out. I looked out of the window from yet another movie and saw one of the most
beautiful
sight's I have
ever
seen.
We were cruising above the alps, and luckily the clouds were not too thick today. A soft sun was just peeking over the horizon, spilling a warm pinkey light above the snow-capped mountains. No photo's can do it justice, however here's a rough idea of something similar at ground level:
What a view! Unfortunately, it was gone all too soon and we were back over England again. There's alot of morning fog around Manchester yet the captain/FO still performed a very smooth landing, touching tarmac at around 7AM. Which brings another Qatar Airways experience to an end!
To conclude, I can safely say that Qatar Airways does deserve its 5 star status. Great cabin crew, a new modern fleet, great IFE, great food and simply great service. 5 stars from me!

Well, that is it for my report, I hope I haven't bored you too much! If you really enjoyed it, and if I find a break from homework (I'm supposed to be doing geo right now!) then I could post about my short trip from DOH-DXB with the mighty 777.
But for now, adios!
05-18-2011, 01:31 PM
jakeb221


YOOOOOOOOO

Posts: 40
Joined: May 2011
Reputation: 0
RE: Trip Report, MAN-DOH-KRT with QR
Nice, sounded fun.
Question, for each trip we make our own thread right?
05-18-2011, 06:52 PM
AirbusA340
Your Average SchoolGiraffe


Posts: 139
Joined: May 2011
Reputation: 4
RE: Trip Report, MAN-DOH-KRT with QR
Yes, and you get your thread stuck for 2 weeks if it is popular.
05-22-2011, 08:17 AM
nino51300
Temporary Administrator


Posts: 43
Joined: May 2011
Reputation: 0
RE: Trip Report, MAN-DOH-KRT with QR
well then..that is my middle east airline!
05-22-2011, 08:22 AM
AirbusA340
Your Average SchoolGiraffe


Posts: 139
Joined: May 2011
Reputation: 4
RE: Trip Report, MAN-DOH-KRT with QR
The Middle East Airlines Are Getting Really Great Makeovers
05-29-2011, 06:01 AM
nino51300
Temporary Administrator


Posts: 43
Joined: May 2011
Reputation: 0
RE: Trip Report, MAN-DOH-KRT with QR
For the "warmer" flights I hope


User(s) browsing this thread: